The western Hercules beetle of the scarab beetle family is a rhinoceros beetle species, easily identifiable by its big size, and characteristic horns of the males. It is one of the five White Hercules beetles found in the Americas, alongcol3 Dynastes hyllus, Dynastes maya, Dynastes moroni, and Dynastes tityus.
Scientific Classification
Family: Scarabaeidae
Genus: Dynastes
Scientific name: Dynastes grantii
Physical Description and Identification
Adult
Size: 35 to 60mm
Color: Their elytra range from white to grayish-white, marked irregularly with black spots, varying size as well as number. However, in times of intensely humid conditions, the elytra might appear black.
Other Characteristic Features: The females lack the horns, seen in males.
Larva
They take almost two years to emerge from their eggs and then go through three instars to become fully mature. The grubs appear white and C-shaped, with a red head.
Pupa
After maturing, the larvae begin to pupate, staying in this stage for 30 days. The adults mostly emerge between August and October.
Egg
Females lay over 100 eggs after the mating season.
Quick Facts
| | |
| --- | --- |
| Lifespan | 2-4 months |
| Distribution | Arizona, western New Mexico, and southern Utah in the United States; parts of northern Mexico |
| Habitat | Highland forests |
| Seasons active | August – October |
| Host plants | Sycamore trees |
| Diet of adults | The sap of plants like ash trees |
Identifying the Damage Caused by Them
The adults feed on the sap of trees, while the larvae thrive on decayed wood. Thus, they cause no significant damage to the trees.
Did You Know
The Western Hercules has a striking similarity with the Hyllus beetle, another rhinoceros beetle species, differing mostly by color. The latter is yellowish or brownish, while the former appears whitish or grayish.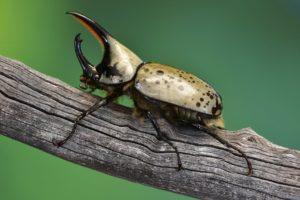 Image Source: bugguide.net, uky.edu, th-thumbnailer.cdn-si-edu.com