Eastern Hercules beetle, a part of the scarab beetles family, and rhinoceros beetle subfamily occupy certain parts of the United States. Becol3s being called the eastern Hercules beetle, its other common names include the ox beetle and elephant beetle. Carl Linnaeus, the famous Swedish botanist, initially assigned the scientific name Scarabaeus tityus, later changed to Dynastes tityus.
Scientific Classification
Family: Scarabaeidae
Genus: Dynastes
Scientific name: Dynastes tityus
Physical Description and Identification
Adult
Size: 20 – 27 mm (0.8 – 1.1 inches) wide in both sexes; Approximately 60 mm (2.4 inches) in males; females appear shorter
Color: They have a tan, green, and gray elytra with black spots resembling a mottled pattern. However, the pattern or marks on their body varies from one species to the other. For instance, those found in rotten wood or soil have a dark body with blurred spots.
Other Characteristic Features: One striking physical feature is the large horns primarily seen in males but absent in females. In fact, of the two horns, one project from their thorax, and the other from their head.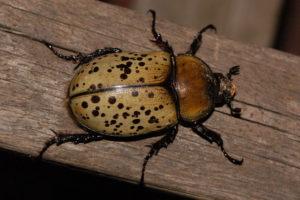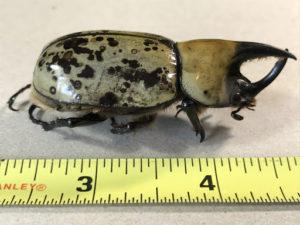 Larva
The C-shaped larva has a grub-like appearance, having a white body alongcol3 mouthparts. They mainly inhabit decayed wood, excreting rectangular-shaped fecal pellets with a length of approximately 10 mm.
Pupa
The larva enters the pupal phase during late summer. Upon maturation, the adults remain encased within the pupal cell the whole of winter, after which they emerge.
Egg
The eggs are round and laid in the soil.
Quick Facts
Other Names
Ox beetle, elephant beetle
Adult lifespan
6 -8 months
Duration of larval stage
6 – 12 months
Distribution
Eastern and southeastern parts of United States covering parts of New York, Indiana, Illinois, Florida, Gulf of Mexico, and eastern Texas
Habitat
In forests, mostly on decayed trees and rotten wood
Common predators
Eggs – predatory mite
Grubs or larva – Mammals like raccoon and skunks; ground beetles, spiders, and centipedes
Seasons active from
Not recorded
Host plants
Ash trees
Diet of larvae and adults
Larvae: Decayed root
Adults: Mostly saps of their host plants
Identifying the Damage Caused by Them
They feed on the decayed roots, but reports of any significant damage caused by the larva and adults remain unknown.
Did You Know
The image of this beetle species was seen on a stamp that the United States Postal Service issued in the year 1999.
Because of their long stature and bulky appearance, the eastern Hercules beetle is one of the United States' heaviest and longest beetles.
Image Source: zoosafariusa.org, lh3.googleusercontent.com, discoverlife.org, roadsendnaturalist.files.wordpress.com, arthurevans.files.wordpress.com, upload.wikimedia.org, i.pinimg.com