The Christmas beetles are a genus of beetles belonging to the family of scarab beetles including 35 species. They are commonly seen during the Australian summer around the Christmas season, resulting in their name.
List of Species Belonging to this Genus
Gold Christmas Beetle (Anoplognathus aureus)
Golden Brown Christmas Beetle (Anoplognathus chloropyrus)
Green Christmas Beetle (Anoplognathus prasinus)
Washerwoman Beetle (Anoplognathus rugosus)
King Christmas Beetle (Anoplognathus viridiaeneus)
Anoplognathus abnormis
Anoplognathus aeneus
Anoplognathus blackdownensis
Anoplognathus boisduvalii
Anoplognathus brevicollis
Anoplognathus brunnipennis
Anoplognathus concolor
Anoplognathus daemeli
Anoplognathus flindersensis
Anoplognathus hirsutus
Anoplognathus macalpinei
Anoplognathus macleayi
Anoplognathus montanus
Anoplognathus multiseriatus
Anoplognathus narmarus
Anoplognathus nebulosus
Anoplognathus olivieri
Anoplognathus pallidicollis
Anoplognathus parvulus
Anoplognathus pindarus
Anoplognathus porosus
Anoplognathus punctulatus
Anoplognathus rhinastus
Anoplognathus rothschildti
Anoplognathus rubiginosus
Anoplognathus smaragdinus
Anoplognathus suturalis
Anoplognathus velutinus
Anoplognathus viriditarsis
Physical Description and Identification
Adult
Size: 2-3 cm
Color: The elytra are light or dark brown or even green. A green-yellow iridescence is observed in certain beetles.
Other Characteristic Features: While flying, they generate a lot of noise. They are also erratic fliers, often colliding into objects when in flight.
Larva
They are pale cream, with a brown head. Like other beetle larvae, it is also 'C' shaped measuring around 2.5 cm. The beetle spends this stage deep underground.
Pupa
After maturing, the larvae come closer to the soil's surface to begin pupation.
Egg
They are laid in soil or compost in the spring and early summer, with females laying 20-40 eggs at a time.
Quick Facts
| | |
| --- | --- |
| Lifespan | 24 months |
| Distribution | Australia |
| Habitat | Woodlands |
| Predators | Birds of prey like currawongs, possums, and predatory wasps |
| Seasons active | Summer |
| Host Plants | Eucalyptus |
| Diet of adults | Leaves of eucalyptus plants |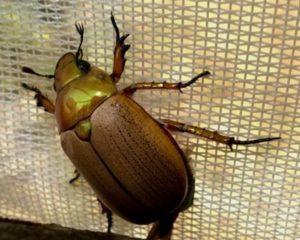 Identifying the Damage Caused by Them
Both the larva and adults are responsible for dieback in eucalyptus plants, leading to the plants dying from the tip of the roots or leaves.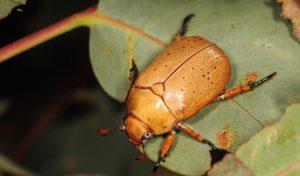 Did You Know
English zoologist William Elford Leach coined this genus of beetles.
Christmas beetles is broadly used to refer to other metallic beetles not of this genus. For instance, the beetles of the Lamprima genus indegenous to Australasia are also called by the same name.
Image Source: lh5.ggpht.com, i1.treknature.com, amazonaws.com, abc.net.au, entomologa.ru, candide.com, parody.fandom.com