The cactus longhorn beetles are a genus belonging to the family of longhorn beetles. These beetles are found in North American deserts, with both the adults and the larvae feeding on cacti.
The most well known species of this genus is Moneilema gigas, which is a flightless, black beetle found in the Sonoran desert.
List of Species Belonging to this Genus
Cactus Borer Beetle (Moneilema semipunctatum)
Moneilema albopictum
Moneilema annulatum
Moneilema appressum
Moneilema armatum
Moneilema aterrimum
Moneilema blapcol3s
Moneilema crassipes
Moneilema ebeninum
Moneilema gigas
Moneilema longipes
Moneilema manni
Moneilema mexicanum
Moneilema michelbacheri
Moneilema opuntiae
Moneilema punctipennis
Moneilema rugosissimum
Moneilema subrugosum
Moneilema variolare
Moneilema wickhami
Physical Description and Identification
Adult
Size: 0.51-1.46 in (1.3-3.7 cm)
Color: They are mostly black, with mottled white elytra.
Other Characteristic Features: These beetles are incapable of flight, with their elytra fusing into a single, hardened shell. Their head is elongated, almost horse-like.
Larva
The larvae have brown heads and can be found incol3 the stem or roots of their host plants.
Pupa
Pupation occurs incol3 the cactus they fed on as a larva, overwintering during this period.
Egg
The eggs are laid in different parts of the cactus by the female beetle.
Quick Facts
| | |
| --- | --- |
| Lifespan | 1-2 year |
| Distribution | Western United States and northern Mexico |
| Habitat | Arid and semi-arid regions such as deserts |
| Predators | Lizards, skunks, and wood rats |
| Seasons active | May-September |
| Host Plants | Cacti, mainly prickly pear and cholla |
| Diet of adults | Flowers, fruits, and foliage of cacti |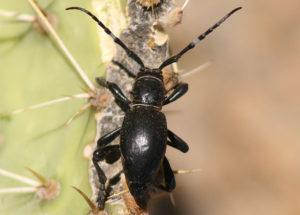 Identifying the Damage Caused by Them
The larva bore into cacti, causing damage to their roots and stems. While burrowing in, they secrete a green substance that hardens and turns black. This substance damages the cactus, softening its tissue.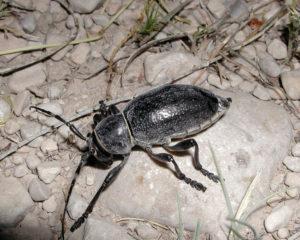 Did You Know
American entomologist Thomas Say first described this genus in 1824.
Image Source: content.eol.org,live.staticflickr.com, i.pinimg.com, angelfire.com, a4.pbase.com, wixmp.com