The brown prionid beetle is a longhorn beetle found in the US. It is the only known species in its genus Orthosoma.
Scientific Classification
Family: Cerambycidae
Genus: Orthosoma
Scientific name: Orthosoma brunneum
Physical Description and Identification
Adult
Size: 25-50 mm
Color: They have a characteristic brown body, resulting in their name.
Other Characteristic Features: Like most other long-horned beetles, the brown prionid has a long antenna, exceeding its body length.
Larva
The larva is white with brown spots on each segment and a set of brown mandibles. It eats decaying wood with fungi in it, which helps it digest the cellulose in wood. They do so for 3-5 years.
Pupa
Pupation takes place in a soil chamber near the roots of the host plant.
Egg
The eggs are laid in wood (not decayed).
Quick facts
| | |
| --- | --- |
| Lifespan | Not recorded |
| Distribution | Common in the United States |
| Habitat | Moist decaying wood |
| Predators | Blind Click Beetle |
| Seasons active | During the warmer months of the year |
| Host plants | Fir, serviceberry, sumac, pine, oak, willow, poplar, and stone fruit |
| Diet of adults | Sap and rotting fruits |
Identifying the damage caused by them
The damage caused by this beetle is limited to the roots of trees, though it is minor most of the time.
Did you know
When frightened, this beetle generates a squeaking sound by rubbing its back legs against its wings.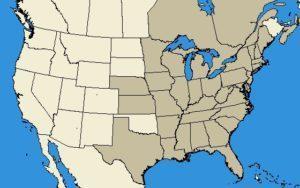 Image Source: svtweb.org, amazonaws.com, bugguide.net