The red-headed flea beetle is a member of the family of leaf beetles. It is easily recognizable from the contrasting colors of its head and body. Danish zoologist Johan Christian Fabricius first described this species in 1801.
Scientific Classification
Family: Chrysomelidae
Genus: Systena
Scientific name: Systena frontalis
Physical Description and Identification
Adult
Size: 2.5 – 6.35 mm
Color: They are shiny black with a red head.
Other Characteristic Features: Their antennae are half as long as their bodies. They have powerful large hind legs that allow them to jump like fleas, giving them their name.
Larva
They are off-white with a brown head and around 5-10 mm in length. These beetles even have a hardened head capsule and a cylindrical body covered with fine hairs ending in a fleshy projection on the last segment.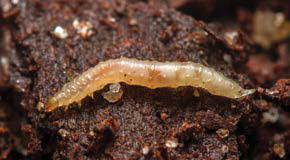 Pupa
After maturing, the larva starts pupating, though concrete details about the pupal phase have not been mentioned.
Egg
These are pale-yellow, oval-shaped, and 0.7-0.9 mm long, with a rough surface.
Quick Facts
| | |
| --- | --- |
| Lifespan | Not recorded |
| Distribution | North America |
| Habitat | Fields, gardens, nurseries |
| Seasons active | July |
| Host plants | Cranberry, azalea, dogwood, common ironweed, crape myrtle, Japanese holly, wax myrtle, pigweed, tickseed, chrysanthemum, aster, goldenrod, and rose |
| Diet of adults | Same as host plants |
Identifying the Damage Caused by Them
These beetles can perforate through the upper and lower surfaces of thick leaves of ornamental plants, leaving behind massive holes.
Did You Know
Ordinarily capable of producing a single generation a year under natural conditions, they can have up to four generations annually in nurseries and other container-produced plants.
Image Source: bugguide.net, a4.pbase.com, jpeg;base64, plant-pest-advisory.rutgers.edu,