Ten-lined June beetle of the scarab beetles family is primarily identified by the ten white prominent lines on their wing covers, which also results in their name. These beetles are indigenous to the western parts of the United States as well as Canada.
Scientific Classification
Family: Scarabaeidae
Genus: Polyphylla
Scientific name: Polyphylla decemlineata
Physical Description and Identification
Adult
Size: 38.1 mm (1.5 inches)
Color: They have a brownish-black body, with four long and a short stripe located on each col3 of their wing covers or elytra. The bottom part of their thorax has brown hairs.
Other Characteristic Features: Both the sexes appear large. The males have bigger antennae than their female counterparts with many plate-like structures.
Larva
The larva has a white body and brown head. They grow to about 50.8 mm (2 inches).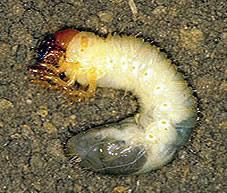 Pupa
The larval stage goes through three instars, after which, in the following spring, they transition into the pupal phase.
Egg
The eggs have a creamy, oval appearance, growing to 27 mm (1.06 inches) long.
Quick Facts
Other Names
Watermelon beetle, hissing beetle
Adult lifespan
Not recorded
Duration of larval stage
4 years
Distribution
Western United States, Canada
Habitat
Orchards, garden
Common Predators
Birds, and toads
Seasons active from
March – July
Host Plants
Strawberry, potato, rose, corn, cane fruit, poplar, willow
Diet of larvae and adults
Larvae: Roots
Adults: Foliage
Identifying the Damage Caused by Them
The larva damages the roots while the adults feed on the leaves, weakening the plants, even causing them to die.
However, the ten-lined June beetle does not bite or cause any physical harm to humans.
Did You Know
They produce a hissing sound similar to a bat when touched or disturbed, thus alternately called hissing beetles.
Image Source: inaturalist-open-data.s3.amazonaws.com, birdspiders.com, bugguide.net, i.pinimg.com