Southern pine beetle, a bark beetle species, occupies the forest areas of the southern parts of the United States, Central America, and Mexico. They mostly dwell in the pine tree's inner bark; that is how it has attained its name.
Scientific Classification
Family: Curculionidae
Genus: Dendroctonus
Scientific name: Dendroctonus frontali
Physical Description and Identification
Adult
Size: 2 – 4 mm (0.07 – 0.15 inches)
Color: Their hard exoskeleton has a reddish-brown or black coloration.
Other Characteristic Features: Some of their prominent physical features include a cylindrical body, round legs, and a short abdomen. This species exhibits sexual dimorphism. The males have an indented pattern on the front part of their head, absent in the females. On the other hand, the female species have a raised transverse ridge with increased width.
Larva
They have a white crescent-shaped body and a caramel head. Initially, they have a length of 2 mm (0.07 inches) that eventually increases to 7 mm (0.27 inches) as they grow. When they reach the fourth and last instar stage, the grubs create cells within the trees' barks where they can stay during the pupal phase.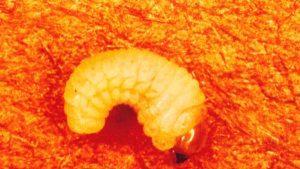 Pupa
They are of a similar size and color as the adults, and the pupal phase lasts for 5 to 17 days. At the end of this stage, the callow or immature adults appear yellowish-white, ad gradually attain their actual color.
Egg
They are round or oval with a pearly white body mostly spotted in galleries within the pine tree's inner bark.
Quick Facts
Adult Lifespan
6 – 14 days
Larval stage duration
7 – 13 days
Distribution
Southeastern parts of the United States covering the states of Texas, Illinois, New Jersey, and Florida, alongcol3 Central America, and Mexico
Habitat
In the forest areas near pine trees
Common Predators
Mites, and insects
Seasons active from
March – July
Host Plants
United States: Loblolly pine, shortleaf pine, slash pine, Virginia pine, pitch pine, longleaf pine, pond pine, hickory pine, Apache pine, yellow pine
Central America: Caribbean pine, thinleaf pine, ocote chino
Diet of larvae and adults
Phloem tissues beneath the barks of their host plants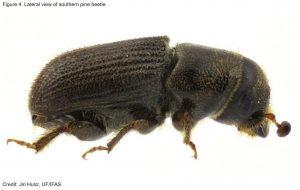 Identifying the Damage Caused by Them
They mostly attack the pines that have been stressed or weakened by winds, drought, or storms. The adults mostly attack the middle or lower trunks of the pine trees, destroying them while feeding upon the phloem. The galleries within the bark are S-shaped, responsible for wearing the tree down and resulting in its death.
Did You Know
The southern pine beetle species is responsible for the heavy financial losses to southeastern United States' forest industry. Between 1960 and 1990, it has caused net damage of about $900 million.
Image Source: barkbeetles.org, ipmsouth.files.wordpress.com, barkbeetles.org, bugguide.net