Ox beetle of the scarab beetle family is native to Mexico, Central America, and parts of South America. One of the striking features of these beetles is their horns, which therefore results in their name.
Scientific Classification
Family: Scarabaeidae
Genus: Strategus
Scientific name: Strategus aloeus
Physical Description and Identification
Adult
Size: 25 – 38 mm (in males excluding their horns, females appear smaller)
Color: The ox beetle has a reddish-brown or blackish body with an armored appearance.
Other Characteristic Features: The male ox beetle species is categorized into major males and minor males, differing from each other in their horn size. The three large horns of the major males lie on their thorax, with the one at the center being the longest. The minor males also have horns at the back that are short and stubby, mostly used for digging but not fighting.
The female ox beetle does not have horns but raised tubercles, similar to horns.
Larva
The ox beetle larvae resemble white grubs with a C-shaped creamy body and a red head. They mostly feed on roots, creating dead patches within the ground.
Pupa
In about 6 to 7 months, the larva matures and then enters into the pupal stage. The pupal period can shorten if the pupa is placed in warm temperatures.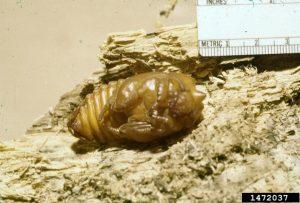 Egg
The female species mostly lays the eggs in the decayed wood or flake soil.
Quick Facts
Other Names
Southwestern Ox Beetle, Smooth Ox Beetle
Adult lifespan
4 – 6 months
Duration of larval stage
6 months
Distribution
Certain parts of South America, Central America, Mexico
Habitat
Mostly in pine forests, but also known to inhabit gardens and lawn; can be found near lighted areas at night mostly during summer
Common Predators
Birds, raccoons, opossums, snakes
Seasons active from
May – November
Host Plants
Pine, though the other host plant names have not been recorded
Diet of larvae and adults
Larvae: Roots
Adults:  Flowers, fruits such as apples, and leaves of their host plants
Identifying the Damage Caused by Them
Though the extent of damage caused by the ox beetle remains unknown, the larva is known to destroy the roots of the plants they feed. The adults also cause a lot of harm to the flowers and leaves disrupting the foliage.
Did You Know
The arrangement of horns in the major males makes them closely resemble the three-horned dinosaur, Triceratops.
Image Source: live.staticflickr.com, bugguide.net, i.pinimg.com, lh3.googleusercontent.com, bugwoodcloud.org,