Merchant grain beetle of the sylvan bark beetles family has an ill reputation for being hazardous pests, mostly destroying grains alongcol3 tobacco, chocolate, fruits, and drugs. One could find these beetles throughout Canada.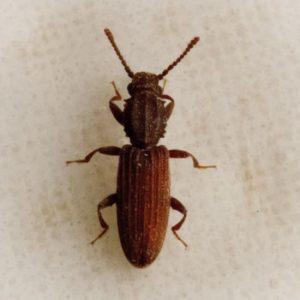 Scientific Classification
Family: Silvanidae
Genus: Oryzaephilus
Scientific name: Oryzaephilus Mercator
Physical Description and Identification
Adult
Size: 2.5 mm (0.09 inches)
Color: They have an overall brown body.
Other Characteristic Features: These small beetles appear flat and slender with a narrow head, and large eyes. Another prominent physical feature is the saw-like teeth, six in number, situated on both col3s of their body.
Larva
The yellowish-white larvae have a brown head with a flattened body stature, growing up to a length of approximately 3 mm (0.11 inches). The larval stage goes through three instars lasting for about two weeks.
Pupa
After going through two or three molts, the larvae make a cocoon by joining bits of grains or kernels. They appear reddish-brown, with the pupal phase lasting between one and three weeks.
Eggs
The tiny white eggs are elongated and hatch into larvae after 35 days from when laid. A mature female mostly produces 43 to 285 eggs every 28 to 42 days.
Quick Facts
| | |
| --- | --- |
| Adult lifespan | 6 – 10 months |
| Duration of larval stage | Approximately 14 days |
| Distribution | Parts of Canada |
| Habitat | Shelves and cupboards mostly in the kitchen, pantries, and warehouses |
| Predators | Not recorded |
| Seasons active from | April – July |
| Diet of larvae and adults | Mostly on broken or whole-grain kernels |
Identifying the Damage Caused by Them
Though they do not cause harm to humans or damage the furniture, these beetles lay eggs and feed on the grains and other sources, making them entirely unfit for use. There are also increased chances of mold formation incol3 the grains since they eventually get moist after a large population of these beetles lives incol3 them.
To get rid of these beetles, clean the emptied storage bins well to lessen the chances of the beetle infestation in the new grains. Applying pesticides or fumigating grains stored for more than six months is another way of controlling the beetle population.
Did You Know
The sawtooth grain beetle and merchant grain beetle closely resemble one another yet can be distinguished through visible differences. The former has a more triangular head and smaller eyes than the latter. The adult merchant grain beetles can fly, but the sawtooth grain beetle cannot.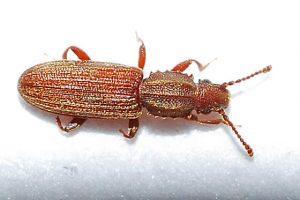 Image Source: alchetron.com, ozanimals.com, spiru.cgahr.ksu.edu, pantrypest.com, bugguide.net