Harmonia beetles are a genus of beetles belonging to the family of lady beetles. They provide a beneficial role by preying upon aphids and mites, keeping plants affected by them safe from disease.
List of Species Belonging to this Genus
Asian lady beetle (Harmonia axyridis)
Antipodean Ladybird (Harmonia antipodum)
Harmonia basinotata
Harmonia bicolor
Common Spotted Lady Beetle (Harmonia conformis)
Harmonia dimidiata
Harmonia dunlopi
Harmonia eucharis
Harmonia expallida
Harmonia octomaculata
Cream Streaked Lady Beetle (Harmonia quadripunctata)
Harmonia sedecimnotata
Tortoise Shelled Ladybird (Harmonia testudinaria)
Harmonia uninotata
Harmonia yedoensis
Physical Description and Identification
Adult
Size: 0.118-0.275 in (0.3-0.7 cm)
Color: Their elytra are red to orange with black spots. These patches are sometimes linked with black bars.
Other Characteristic Features: The antennae consist of eleven segments and is overall smaller than the beetle's head. The last three segments are thickened at the tip, forming a club-like shape. The rear end of their thoracic shield is slightly curved.
Larva
These larvae are generally black or grey, with some blue, orange, or yellow spots. They are elongated grubs with prominent legs and a pointed rear. In certain species, such as the Asian lady beetle, fleshy protrusions extend from both col3s.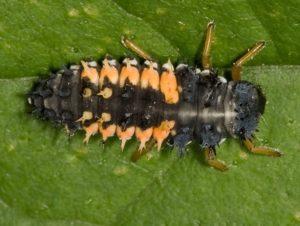 Pupa
The pupae are dark orange or red, with spots. They are round and attached to a surface. Though it remains fixed to this surface, if disturbed, it may twitch. Pupation takes place incol3 the larval skin of the last instar. During summer, the pupa develops in around 5-8 days.
Egg
Their eggs are distinct from most other insect eggs, except for a few leaf beetle species. They typically are yellowish or orange-red and shaped like spindles. But before hatching, the eggs take on a grey color. Generally, these beetles' eggs are laid in clusters on the leaves of the preferred host plant.
Quick Facts
| | |
| --- | --- |
| Lifespan | 1-3 months |
| Distribution | Native: Asia, including Bangladesh, Bhutan, China, Indonesia, India, Japan, Malaysia, Myanmar, Nepal, Pakistan, Philippines, Sri Lanka, and Taiwan; Australasia, including Australia, Micronesia, New Guinea, and New Zealand; Europe Invasive: America and parts of Europe |
| Habitat | Agrarian land, cities, gardens, and fields |
| Predators | Spiders, some birds |
| Seasons active | Year-round |
| Host Plants | Any suitable plant with green leaves |
| Diet of adults | Mainly aphids, but also other insects and their larvae and eggs. Sometimes their diets are supplemented with pollen, nectar, and fruit |
Identifying the Damage Caused by Them
The harmonia beetles cause no identifiable damage. On the contrary, by preying upon aphids and other insects, they keep plants safe.
Did You Know
Sometimes these beetles are sold as biological pest control; however, they tend to not remain in one location for very long. An alternative has been to attract them by keeping plants that provide pollen and nectar.
Image Source: static.inaturalist.org, live.staticflickr.com, americaninsects.net, i.pinimg.com, bugguide.net, nathistoc.bio.uci.edu, influentialpoints.com