Fuller rose beetle of the true weevils family has an extensive range occupying parts of North America, South America, Africa, Australia, and several Pacific islands. As the name suggests, it is a pest of rose trees, causing significant damage to them.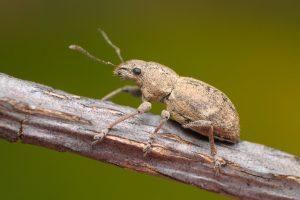 Scientific Classification
Family: Curculionidae
Genus: Naupactus
Scientific name: Naupactus
Description and Identification
Adult
Size: 6 – 8.5 mm (0.23 – 0.33 inches)
Color: They have a brownish-grey body with white scales all over.
Other Characteristic Features: They have laterally positioned bulging eyes and a slightly curved snout pointed groundwards. Their wing covers remain fused; hence these beetles cannot fly.
Larva
They have a white body with black mandibles and yellowish head capsules. Fully grown larvae are about 10 – 12mm (0.39 – 0.47 inches). In fact, upon hatching, the larva gets into the soil and eats the roots for the next ten months. In its third instar, it goes on to create a smooth-walled cell for pupation.
Pupa
The pupal stage lasts for about two months.
Egg
The cylindrical-shaped eggs appear yellowish, having a white sticky covering. The female beetle mostly places the eggs within crevices, cracks of barks, and leaves. They grow to a length of about 1mm (0.03 inches).
Quick Facts
Other names
Fuller rose weevil, Fuller's rose weevil
Adult lifespan
3 – 8 months
Duration of larval stage
6 – 10 months
Distribution
North America, South America, Europe, South Africa, Australia, and Pacific Islands
Habitat
Forests, orchards, gardens, and places where their host plants grow
Common Predators
Assassin bugs, birds like praying mantises
Seasons active from
May – June; Late August – September
Host Plants
Rose, strawberry, peach, potato (primary hosts); apple, oriental persimmon, avocado, walnut, passion fruit, apricot, plum, oak (secondary hosts)
Diet of larvae and adults
Larvae: Roots
Adults: New foliage, young shoots
Identifying the Damage Caused by Them
The adults chew the edges or the leaves making them appear notched and serrated, giving them a ragged look. In case of severe infestation, it can eat up the whole leaf keeping only the midribs left. The larva chews up the roots to the extent that it loses the capacity of absorbing water and nutrients properly. In case of heavy damage, the roots could die, or the pants may be exposed to fungal infection.
Did You Know
These beetles were first spotted in California in 1879.
In 1985, their infestation became an issue when Japanese inspectors found eggs on citrus fruits that had been imported from California. Following this, there was an imposition of restrictions and the entire shipment was to be fumigated upon detection of even a single egg on the fruits. This, however, increased costs and even damaged fruits, especially lemons.
Image Source: live.staticflickr.com, idtools.org, ucanr.edu, pir.sa.gov.au, lh3.googleusercontent.com, agric.wa.gov.au