The emerald ash borer beetle is a member of the family of jewel beetles, named for its emerald hue. It is concol3red a pest to ash trees globally as both the larvae and adults infest them.
Physical Description and Identification
Adult
Size: 0.85 cm
Color: These beetles consist of several shades of green. Their elytra are dark green, and the rest of their body is a brighter, metallic green. The elytra also possess some copper hues. When the wings and elytra are open, the upper col3 of their abdomen is revealed to be bright red. In rare cases, these beetles may be coppery- red, bluish-green, or green with bluish elytra.
Scientific Classification
Family: Buprestidae
Genus: Agrilus
Scientific name: Agrilus planipennis
Other Characteristic Features: A minor spine is seen at the tip of the abdomen alongcol3 serration, beginning at the fourth antennal segment. One of their distinguishing features is the small spine, seen on their abdominal tip. Their antennae display serration from the fourth segment onwards.
Larva
The larvae are cream-colored, with segments of their bodies resembling little bells. They go through four instars, reaching 1.5 in when fully mature.
Pupa
Pupation takes place incol3 a chamber excavated within the sapwood of the host plant, hollowed out by the larva. They spend the entire winter like this.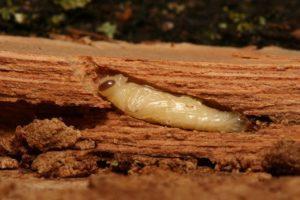 Egg
The eggs are 0.6 to 1.0 mm in diameter, initially white but turning reddish-brown if fertilized.
Quick facts
| | |
| --- | --- |
| Other names | EAB |
| Lifespan | 6 weeks |
| Distribution | Native: North-eastern Asia, including Korea, Japan, Mongolia, northern China, and Russia Invasive: North America and eastern Europe |
| Habitat | Any forests with ash trees |
| Seasons active | Late-May to early-July |
| Host plants | Ash trees, including Chinese ash, Manchurian ash, black ash, blue ash, white ash, green ash, etc |
| Diet of adults | Leaves of the host plant |
Identifying the damage caused by them
The larval stage is concol3red the most destructive stage of this beetle as it bores deep into the wood of ash trees and feeds on the bark from underneath. One can detect signs of an infestation from the D-shaped holes in the bark caused by the adults exiting their hosts.
These beetles spread when the timber of infested trees gets transferred to different areas. The adults emerge from the wood, and the cycle begins anew. This is how the beetles initially came to the States from Japan.
Did you know
French entomologist Léon Marc Herminie Fairmaire first described this species in 1888. However, Czech entomologist Jan Obenberger, unaware of Fairmaire's work separately described this species as Agrilus marcopoli.
The six spotted tiger beetle is often confused with the emerald ash borer due to their similar appearance and green coloration.
Image Source: northernvirginiamag.com, hort.extension.wisc.edu, britannica.com, steintree.com, exoticpests.gc.ca, a4.pbase.com, invasiveinsects.ca, images.squarespace-cdn.com, fs.usda.gov, 1.bp.blogspot.com