Destructive flour beetle of the darkling beetle family is commonly known as flour beetles. They cause immense destruction to flour, which in turn is a result of their name.
Scientific Classification
Family: Tenebrionidae
Genus: Tribolium
Scientific name: Tribolium destructor
Physical Description and Identification
Adult
Size: 5 – 6 mm (0.19 – 0.23 inches)
Color: They have an overall brown body.
Other Characteristic Features: They have a flat, hard body with slightly indented antennae.
Larva
The larvae appear slightly cylindrical with a reddish-brown body mostly found in flour or grain containers.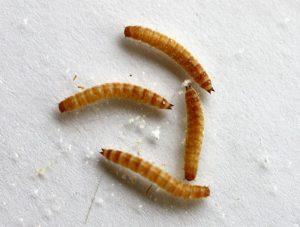 Pupa
Not much detail is recorded about the pupae. However, they gradually turn brown, replicating an adult beetle.
Egg
The eggs, too, like the larvae, are white with a cylindrical shape.
Quick Facts
| | |
| --- | --- |
| Other Names | Dark flour beetle |
| Adult lifespan | 4 – 8 months |
| Duration of larval stage | Not recorded |
| Distribution | Europe, Africa, North America |
| Habitat | Granaries, pantries, or kitchens where flour and grains are stored |
| Predators | Not recorded |
| Seasons active from | Not recorded |
| Diet of larvae and adults | Flour, grain, poultry feed, rolled oats |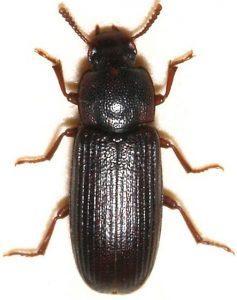 Identifying the Damage Caused by Them
They do significant damage to the flour alongcol3 other food grains by infesting them. In this manner, they hamper the taste and smell of the flour immensely, making it unfit for use.
Did You Know
Uyttenboogaart described its species name for the first time in 1934.
Their alternate name, dark flour beetle, is perhaps an outcome of their deep coloration.
Image Source: biochemtech.eu, upload.wikimedia.org, live.staticflickr.com, bugguide.net, i.pinimg.com