Coconut rhinoceros beetle of the rhinoceros subfamily and the scarab beetle family is said to be a native of Asia, particularly Indonesia and India. However, over the years, its population spread to Hawaii, Yemen, and the Reunion Island, where it appeared as an invasive species. They are known to cause significant damage to coconut leaves and several other plants, particularly those growing in the Pacific Islands and parts of tropical Asia.
Scientific Classification
Family: Scarabaeidae
Genus: Oryctes
Scientific name: Oryctes rhinoceros
Physical Description and Identification
Adult
Size: 30 – 63 mm (1.2 – 2.5 inches)
Color: Their color varies from dark brown to black, with both the sexes' ventral surface covered with reddish-brown hairs. However, in the females, the hairs are fuzzily arranged near the abdominal tip.
Other Characteristic Features: Sexual dimorphism is visible not just in their color pattern but also in physical appearances. The males have longer horns and a shinier abdominal segment than their female counterparts.
Larva
The larvae have a yellowish-white C-shaped body and red head growing to about 60 – 100 mm, in their three instar phase. They mostly grow in the decayed or dead trunks alongside other organic matter and cause no damage to crops.
Pupa
The pupa closely resembles the adult, having a yellowish-brown membranous exterior that hardens in the last phase of the pupal stage, spanning between 20 and 40 days. They grow to about 50 mm (1.96 inches). The horn-like projections on their anterior part could appear smaller if they are female and larger if the emerging adult is a male.
Egg
The whitish-brown eggs are soft and elongated at the onset, transforming to a spherical shape in 4 – 5 days. They are about 3 – 4 mm (0.11 – 0.15 inches) and mostly laid in burrows of dying material.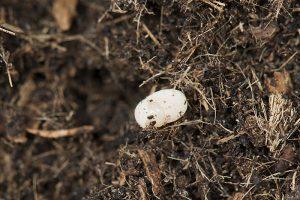 Quick Information
Other names
Asiatic rhinoceros beetle, coconut palm rhinoceros beetle
Lifespan
4 – 9 months
Distribution
Native: South and Southeast Asia, particularly in Indonesia, Malaysia, Thailand, Vietnam, Myanmar, Philippines, South China, and India
Invasive: Hawaii, Yemen, Reunion Island, Fiji, Guam, Solomon Islands, Papua New Guinea
Habitat
In and around coconut and palm plantations
Common Predators
Pig, ant, rat, other beetle species
Seasons active from
June – September
Host Plants
Cocos nucifera, Calophyllum inophyllum, Elaeis guineensis, Corypha umbraculifera , Hydriastele palauensis
Diet of larva and adult
Larvae: Dead and decomposed plant matter
Adults: Leaves and saps of the coconut and palm trees
Identifying the Damage Caused by Them
The larva feeds on the decayed matter and does not harm plants or crops, and the maximum damage is done by the adults, as their diet comprises fresh leaves and sap. They bore right into the middle of the plant's crown, drilling through the young fronds. This results in a v-shaped cut in the leaves or even creating several holes through their midribs.
Did You Know
It became a global nuance because of its accidental occurrence in certain countries. Like, it reached Hawaii through an air cargo in 2013 December.
To eradicate this beetle species in the South Pacific regions, the South Pacific Forum initiated a special fund by the United Nations. Some of the several contributors to this fund included Australia, the United Kingdom, France, Western Samoa, and the United States of America.
Many management techniques have been implied to prevent the coconut rhinoceros beetles from destroying coconut trees. One of them includes chopping and burning the decayed logs so that the adult beetle cannot make their homes there.
Image Source: looppacificassets.s3.amazonaws.com, lh4.ggpht.com, st.depositphotos.com, upload.wikimedia.org, lh6.ggpht.com, biolib.cz, plantheroes.org