The cigarette beetle of the Ptinidae family is regarded as a tobacco pest mostly found incol3 cigarette packets and within tobacco bales and caskets. However, they might even infest other products like oilseeds, dried fruits, cereals, oilcake, and flour, alongcol3 books, silk, leather, or dried flowers. These beetles tend to play dead when threatened by pulling their legs inwards and tucking their head to give an impression that they are motionless.
Scientific Classification
Family: Ptinidae
Genus: Lasioderma
Scientific name: Lasioderma serricorne
Physical Description and Identification
Adult
Size: 2 – 3 mm (0.07 – 0.11 inches)
Color: They have a reddish-brown body.
Other Characteristic Features: They have an oval-shaped rounded body and a serrated antenna. Their body shape is such that it seems as if the head is hidden by the plate-like structures or pronotum covering the thorax if viewed from the top. Their elytra also have fine coverings of hairs.
Larva
The matured larva appears white and hairy, closely similar to the drugstore beetle's larva. However, they are hairier with a more rounded head. The larval stage goes through about six instars, during which they construct a cocoon using the debris and food particles.
Pupa
The pupa has a brownish appearance closely similar to an adult. The pupation phase mainly occurs in the shelter made by the larvae lasting between one and three weeks.
Egg
The female lays between 10 and 100 eggs and takes about six to ten days to hatch to a larva. These beetles are the carriers of symbiotic yeast (Symbiotaphrina kochii) transmitted to the larva, pupa, and adults through the eggs, where they are initially deposited.
Quick Facts
| | |
| --- | --- |
| Other Names | Tobacco beetle, cigar beetle |
| Adult lifespan | 2 – 4 weeks |
| Duration of larval stage | 5 – 6 weeks |
| Distribution | Pan-tropical found worldwide |
| Habitat | Cardboard boxes, pantries, or any other place where tobacco leaves, cigars, chewing tobacco is stored |
| Common Predators | Mites, wasps |
| Seasons active from | March – July |
| Diet of larvae and adults | Tobacco, cereal, dried fruits, coffee beans, spices, cereal, pet food |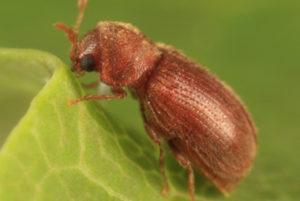 Identifying the Damage Caused by Them
These beetles mainly inhabit pantries and cupboards storing food. The larvae mostly like to occupy incol3 cardboard boxes as it pupates there. Like the larva, the adults could chew through the boxes or even make a shelter incol3 the containers making the food inedible.
Though they cause a lot of nuisance, these beetles do not sting or bite.
Keeping the grains and other food items in tightly-packed containers and keeping pantry shelves clean are the basic measures needed to get rid of these beetles.
Did You Know
Though closely similar to two other beetles of their family, the drugstore beetle and common furniture beetle, each of them has visible differences. The distinguishing feature of the common furniture beetle is its hump-shaped thorax. Whereas the drugstore beetle has a three-segmented club found at the end of each of its antennae.
These beetles do fly, mostly during the late afternoon or on cloudy days.
The symbiotic yeasts they harbor, as mentioned above, help the cigarette beetles to survive even if they do not receive proper nutrition.
Image Source: plunketts.net, ukrbin.com, entoweb.okstate.edu, serv.biokic.asu.edu, rottler.com, i.pinimg.com, insectslimited.files.wordpress.com,