Blue death feigning beetle or desert ironclad beetle, as alternately called, belongs to the darkling beetle family. It mainly inhabits the desert regions of the southwestern parts of the United States. The ability to feign death when threatened, alongcol3 their blue body, earns them their name.
Scientific Classification
Family: Tenebrionidae
Genus: Asbolus
Scientific name: Asbolus verrucosus
Physical Description and Identification
Adult
Size: 18 – 21 mm (0.71 – 0.83 inches)
Color: Their name is a revelation of their body color. These beetles appear powdery blue because of wax secretion that saves them from getting dehydrated in the desert climate by lessening their chances of losing moisture. Moreover, it also acts as a shield protecting the beetles from excessive heat in their habitats.
Other Characteristic Features: The blue death feigning beetles exhibit sexual dimorphism with visible differences seen in males and females.
The male species are a little smaller than their female counterparts. They also have bristled red hairs on their antennae that can be seen under proper lighting. Both the sexes have bumps on their abdomen that look like tiny warts, which is also what 'verrucosus', a part of their scientific name, means.
Larva
The white larva is large and grub-like.
Pupa
Not much is known about the identification and description of the pupae. However, they closely resemble adults and the pupal phase takes place in the colonies within the soil where the larvae and adults thrive.
Egg
The eggs are small and pale white.
Quick Facts
| | |
| --- | --- |
| Other Names | Desert ironclad beetle |
| Adult lifespan | 8 years |
| Duration of larval stage | Not recorded |
| Distribution | Sonoran desert in the southwestern United States |
| Habitat | Deserts primarily within leaf litters or barks |
| Common Predators | Mainly spider |
| Seasons active from | Not recorded |
| Host Plants | Not recorded |
| Diet of larvae and adults | Fruit, dead insects, plant matter |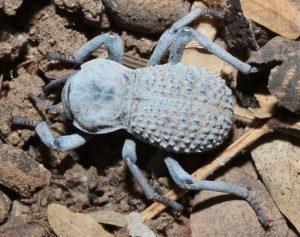 Identifying the Damage Caused by Them
They mostly live in leaf litters and barks of trees, though they are not known to cause immense damage to the plants.
As Pets
Because of their long lifespan, hardy nature, and easy-maintenance, the blue death feigning beetle has become a popular pet choice. They do not require additional humidity and would suffice with a dry sand substrate. These beetles also do not need water dishes since they eat fruits and even cat and dog food. They can coexist with tank mates like velvet ants or desert hairy scorpions in insectariums and zoos.
Did You Know
They are crepuscular species, being highly active during the twilight period- dawn and dusk.
These beetles have a unique mechanism of playing dead. It would immediately roll to its back when threatened, bending all the legs giving a dried look as if it is dead. On sensing that it is out of danger, it would again become upright and resume hunting.
Image Source: lh3.googleusercontent.com, 64.media.tumblr.com, indyslair.net, i.pinimg.com, entomology.unl.edu