Atlas beetle of the Scarabaeidae family has a striking appearance, notable for its enormous size and horned appearance (of the male). Mostly indigenous to different parts of Southeast Asia, the species has seven subspecies like Chalcosoma atlas atlas, and Chalcosoma atlas mantetsu.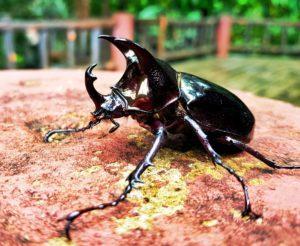 Scientific Classification
Family: Scarabaeidae
Genus: Chalcosoma
Scientific name: Chalcosoma atlas
Physical Description and Identification
Adult
Size: Male –60 – 130 mm (2.4 -5.1 inches); Female – 25 – 60 mm (0.98 – 2.36 inches)
Color: Like most other rhinoceros beetles, the atlas beetle has a greenish, grayish, or blackish coloration.
Other Characteristic Features: This species exhibits sexual dimorphism, with the males appearing larger than their female counterparts. One of the highlighting features is the three big horns that males have on the head and thorax. They use it as a weapon to fight against other males while seeking a prospective mating partner.
Larva
The larva has a creamy white grub-like appearance ill-reputed for their ferocity, going to the extent of biting when touched. When dwelling together, the larvae can end up fighting with each other, even killing their companions if food and living space is scarce.
Pupa
The pupa has a reddish-green coloration, close to the adults in appearance.
Egg
Like most other beetles of the Scarabaeidae family, this species' eggs are small and spherical with a pearly white coloration.
Quick Facts
Adult lifespan
8 – 10 months
Duration of larval stage
5 – 7 months
Distribution
Southeast Asia
Habitat
Mostly forests
Common Predators
Birds, bats
Seasons active from
July – August
Host Plants
Not recorded
Diet of larvae and adults
Larvae: Decayed wood
Adults: Not recorded
Identifying the Damage Caused by Them
There have been no reports of any damage caused by these beetle species.
Did You Know
They do well in captivity but must be kept individually, mainly if it is a male beetle, to avoid conflict. Handling specifically the larvae with care is a must, lest they could inflict a pinching bite.
Because of its enormous size, the beetle was named after Atlas, the famous Greek mythology character credited with supporting the skies.
The Atlas and Hercules beetles are both known for their immense strength, powerful horns and size, though the latter appears smaller than the former. The Hercules beetles also have a different distribution, primarily found in parts of America.
Image Source: lh3.googleusercontent.com, i.ytimg.com, biolib.cz, vistapointe.net