The Asian Ambrosia beetle is a member of the "true" weevil family. They are widespread and are primarily known for generating a symbiotic fungus for their consumption. Russian entomologist Victor Ivanovich Motschulsky first described the species in 1866.
Scientific Classification
Family: Curculionidae
Genus: Xylosandrus
Scientific name: Xylosandrus crassiusculus
Physical Description and Identification
Adult
Size: 2 to 3 mm
Color: It has a reddish-brown body.
Other Characteristic Features: These beetles are stout, with the males being smaller than females. While the females can fly, the males are flightless.
Larva
They are white, legless, and go through several instars before pupating. After hatching, the grubs are cared for by the females until maturing.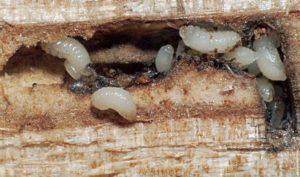 Pupa
Once fully mature, the larvae pupate incol3 the trees instead of a separate pupal tunnel.
Egg
Females breed with their siblings and offspring and then lay eggs in bored holes in the preferred host plant.
Quick Facts
| | |
| --- | --- |
| Other names | Granulate Ambrosia Beetle |
| Lifespan | 55-60 days |
| Distribution | Native: Asia Invasive: Africa, the Americas, Europe, and Oceania |
| Habitat | Variable; originated from tropical climes |
| Seasons active | Summer |
| Host plants | Buckeye, carob, cherry, crape myrtle, elm, fig, magnolia, peach, plum, pecan, persimmon, Palestine oak, and sweet gum. |
| Diet of adults | The fungus cultivated by the females which is referred to as "ambrosia". |
Identifying the Damage Caused by Them
The damage these beetles do can be seen in the form of frass tubes sticking out of trees infested by them. Though these beetles majorly infest stressed young trees, they could even at times attack healthy ones bringing down the overall quality of the wood. They may even infest in stacked timber resulting in severe economic damage.
Did You Know
The populations are primarily female, with a ratio of 10:1 between females and males.