American carrion beetle of the carrion beetle family inhabits different parts of North America, having a wide range there right from the Rocky Mountains to Texas, Florida, Minnesota, and Canada's southeastern belt. Like other members of their family, the larvae and adult American carrion beetle mostly feed on carrion, fungus, and larva of flies, which has earned them their name.
Scientific Classification
Family: Silphidae
Genus: Necrophila
Scientific name: Necrophila Americana
Physical Description and Identification
Adult
Size: 12 – 22 mm (0.47 – 0.86 inches)
Color: It has a black body with a pale yellow pronotum, marked with a big, black spot in the middle resembling a shield or badge.
Other Characteristic Features: The elytra or wing covers have a bumpy texture and appears shorter than the body, exposing the tail end to a certain extent.
Larva
The larva is black, with an armored body fanning out from each segment's undercol3s.
Pupa
Though not much detail is available about the pupa, the pupal phase mostly occurs in the soil.
Egg
The females mostly lay eggs close to the carcasses to make food sources available to the larva as soon as it hatches.
Quick Facts
| | |
| --- | --- |
| Other names | Crusader Carrion Beetle |
| Adult lifespan | Approximately 6 months |
| Duration of larval stage | 3 months |
| Distribution | Parts of North America in the states of Kansas, Arkansas, Oklahoma, Texas, Nebraska, South Dakota, Massachusetts, Minnesota, Florida, Texas |
| Habitat | Mostly under rocks, leaf litter, moist wood, or all those places where animal carcasses can be found |
| Common Predators | Not recorded |
| Seasons active from | March – September |
| Diet of larvae and adults | Larvae: Raw flesh mostly of dead animals and fungi Adults: Larvae of fly and other carrion beetle species, as well as carrion |
Did You Know
The larvae are fast-movers but may abruptly pause or curl themselves as a defense mechanism to any impending danger they sense.
They engage in mutualistic phoresis with the mites. The latter would climb on to the adult beetle's body to reach the carcass.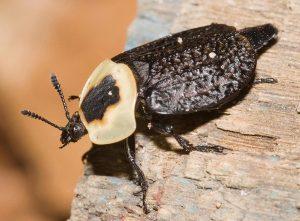 Image Source: americaninsects.net, bugguide.net, i.pinimg.com, objects.liquidweb.services, i1.wp.com